Nicotinamide Riboside boosts your levels of NAD+, increases energy and vitality and combats the effect of aging
Regular price
Sale price
€64,95 EUR
Unit price
per
Sale
Sold out
2-3 shipping days

Free Shipping

EU Warehouse Network
Benefits

Nicotinamide Riboside supplement

+ Precursor of NAD+
+ Supports the Energy Metabolism
+ Helps Reduce Fatigue
+ Supports Cellular Lifespan
+ Combats the effects of aging
+ Anti-inflammatory and supportive to immune balance
+ Supports brain & skin health
Ingredients

Supplement facts per daily serving (1 capsule):

Nicotinamide Riboside____300mg
How it works

+ Nicotinamide Riboside (NR) is a precursor to NAD+, an essential metabolism molecule necessary for the creation of cellular energy (ATP) and cellular repair.

+ Supplementing with NR is acknowledged to successfully boost NAD+ levels in cells and is thus a supplement aimed at optimizing longevity and healthspan.

+ NR works in multiple ways to promote long-term health as maintaining high NAD+ levels is key for various aspects of healthy aging – DNA repair, mitochondrial biogenesis and function, safeguarding brain cells and supporting skeletal muscle strength.

+ NR may also have anti-inflammatory and immune supportive effects.
How to take it

Take 1 capsule per day, in the morning with an empty stomach.
Shipping

Shipping is free across Europe.

Delivery time:

2-3 working days for Germany, Spain, United Kingdom, France and Italy.

5-6 working days for: Austria, Belgium, Bulgaria, Croatia, Cyprus, Chech Republic, Denmark, Estonia, Finland, Greece, Hungary, Ireland, Latvia, Lithuania, Luxembourg, Malta, Netherlands, Poland, Portugal, Romania, Slovakia, Slovenia.
View full details
The role of NR and NAD+ in aging
Nicotinamide riboside (NR) is a biosynthetic precursor to nicotinamide adenine dinucleotide (NAD+), key metabolism molecule necessary for the creation of cellular energy (ATP) but also cellular repair, DNA repair, calcium signalling and mitochondrial biogenesis and function. (1,2)
Levels of NAD+ decrease with age due to diminishing rates of de novo synthesis from tryptophan coupled with increased utilization. (3)
NAD+ depletion plays a key role in the aging process of human cells via decreased DNA repair function. (4) NAD depletion is associated with age-related diseases (metabolic disorder, cancer, neurodegenerative diseases) and replenishing NAD+ levels may slow down or even reverse some aspects of aging. (5)
NR supplementation boosts NAD+ in humans
Human trials demonstrate that supplementing with NR (dose 100 – 1000 mg) successfully raises levels of NAD+. (6,7,8,9)
Benefits of NR – data from human studies
NR augments skeletal muscle and has an anti-inflammatory effect in humans. A 21-day supplementation with NR was shown to decrease levels of circulatory cytokines - one of NR´s pro-longevity mechanisms. (10)
Improved muscle mitochondrial biogenesis (creation of new mitochondria), stem cell differentiation and gut microbiota diversity in a 2023 twin study. (11)
NR supplementation changed body composition and resulted in increased lean mass and improved metabolic rate during sleep in a 2020 randomized, double-blinded, placebo-controlled, crossover intervention study. (12)
NR supplementation improves oxidative stress markers and exercise endurance (VO2max, muscle strength & muscle fatigue). (13)
NR supplementation had a positive effect of NR on vascular endothelial function. (14)
Potential neuroprotective effects most via anti-inflammatory effect on the brain. (15)
May support the treatment of infections including COVID-19. (3)
1. Yoshino J, Baur J, Imai S. NAD+ Intermediates: The Biology and Therapeutic Potential of NMN and NR. Cell Metab. 2018 Mar; 27(3): 513-528
2. Fang E, Lautrup S, Hou Y, Demarest T, Croteau D, Mattson M, et al. NAD+ in Aging: Molecular Mechanisms and Translational Implications. Trends Mol Med. 2017 Oct; 23(10): 899-916.
3. Mehmel M, Jovanovic N, Spitz U. Nicotinamide Riboside—The Current State of Research and Therapeutic Uses. Nutrients .2020 Jun; 12(6): 1616.
4. Massudi H, Grant R, Braidy N, Guest J, Farnsworth B, Guillemin G. Age-Associated Changes In Oxidative Stress and NAD+ Metabolism In Human Tissue. Plos One [Internet]. 2012 Jul [cited 2023 Aug 24]; 7(7): e42357.
5. Aman Y, Qiu Y, Tao J, Fang E. Therapeutic potential of boosting NAD+ in aging and age-related diseases. Transl Med Aging. 2018 Jan; 2: 30-37.
6. Trammell S, Schmidt M, Weidemann B, Redpath P, Jaksch F, Dellinger R, et al. Nicotinamide riboside is uniquely and orally bioavailable in mice and humans. Nat Commun [Internet]. 2016 Oct [cited 2023 Aug 24]; 7: 12948.
7. Airhart S, Shireman L, Risler L, Anderson G, Gowda G, Raftery D, et al. An open-label, non-randomized study of the pharmacokinetics of the nutritional supplement nicotinamide riboside (NR) and its effects on blood NAD+ levels in healthy volunteers. Plos One [Internet]. 2017 Dec [cited 2023 Aug 24]; 12(12): e0186459.
8. Dellinger R, Santos S, Morris M, Evans M, Almanina D, Guarente L, et al. Repeat dose NRPT (nicotinamide riboside and pterostilbene) increases NAD+ levels in humans safely and sustainably: a randomized, double-blind, placebo-controlled study. NPJ Aging Mech Dis. 2017 Nov; 3: 17.
9. Martens C, Denman B, Mazzo M, Armstrong M, Reisdorph N, McQueen M, et al. Chronic nicotinamide riboside supplementation is well-tolerated and elevates NAD+ in healthy middle-aged and older adults. Nat Commun. 2018 Mar; 9(1): 1286.
10. Elhassan Y, Kluckova K, Fletcher R, Schmidt M, Garten A, Doig C, et al. Nicotinamide Riboside Augments the Aged Human Skeletal Muscle NAD+ Metabolome and Induces Transcriptomic and Anti-inflammatory Signatures. Cell Rep. 2019 Aug; 28(7): 1717-1728
11. Lapatto H, Kuusela M, Heikkinen A, Muniandy M, van der Kolk M, Gopalakrishnan S. Nicotinamide riboside improves muscle mitochondrial biogenesis, satellite cell differentiation, and gut microbiota in a twin study. Sci Adv [Internet]. 2023 Jan [cited 2023 Aug 24]; 9(2): eadd5163. 10.1126/sciadv.add5163
12. Remie C, Roumans K, Moonen M, Connell N, Havekes B, Mevenkamp J, et al. Nicotinamide riboside supplementation alters body composition and skeletal muscle acetylcarnitine concentrations in healthy obese humans. Am J Clin Nutr. 2020 Aug; 112(2): 413-426.
13. Dolopikou C, Kourtzidis I, Margaritelis N, Vrabas I, Koidou I, Kyparos A, et al. Acute nicotinamide riboside supplementation improves redox homeostasis and exercise performance in old individuals: a double-blind cross-over study. Eur J Nutr. 2020 Mar; 59(2); 505-515.
14. Heilbronn L. Clinical Trials Corner. Nutr Healthy Aging. 2017 Mar; 4(2): 193-194.
15. Brakedal B, Dolle C, Riemer F, Ma Y, Nido G, Skeie G. The NADPARK study: A randomized phase I trial of nicotinamide riboside supplementation in Parkinson's disease. Cell Metab. 2022 Mar; 3483): 396-407.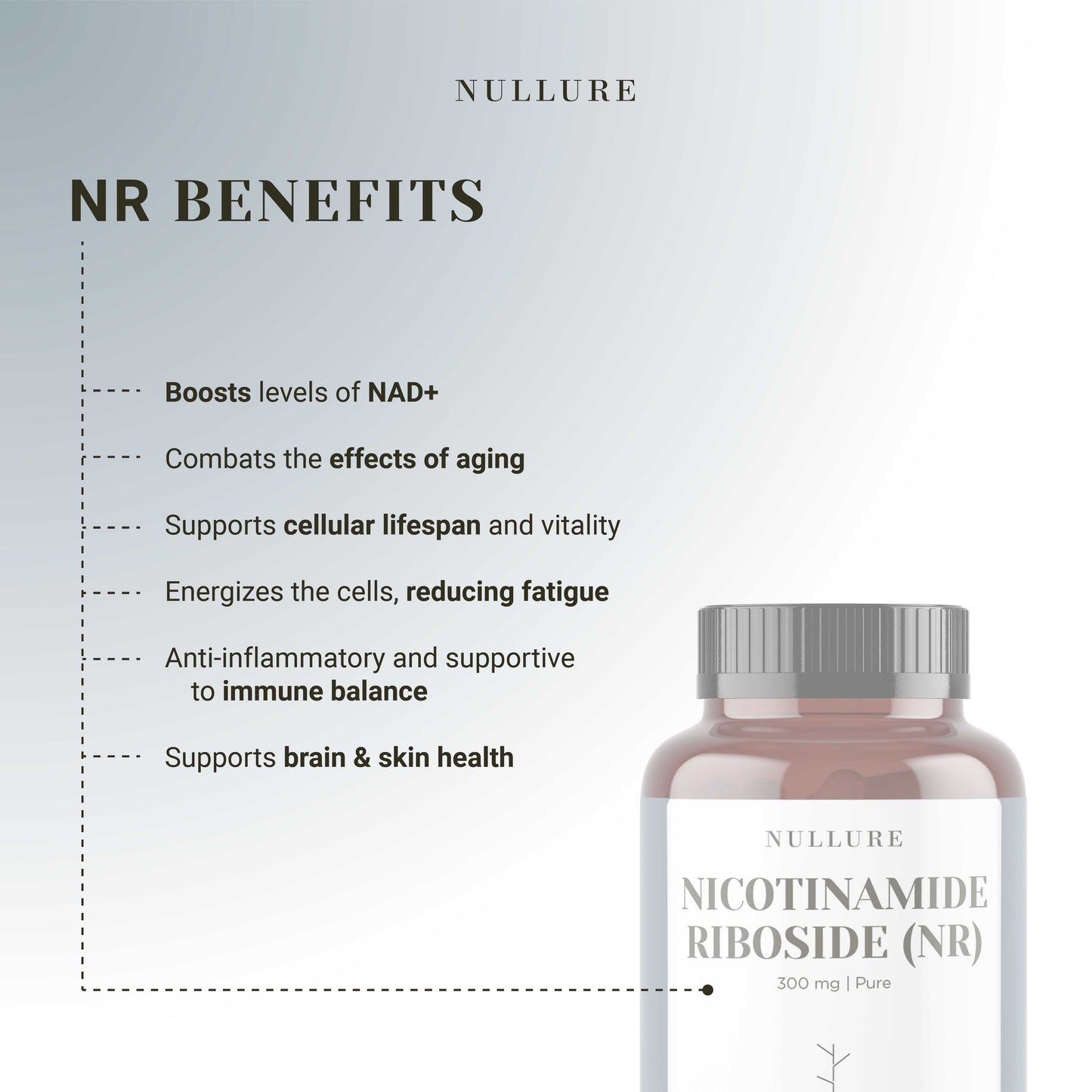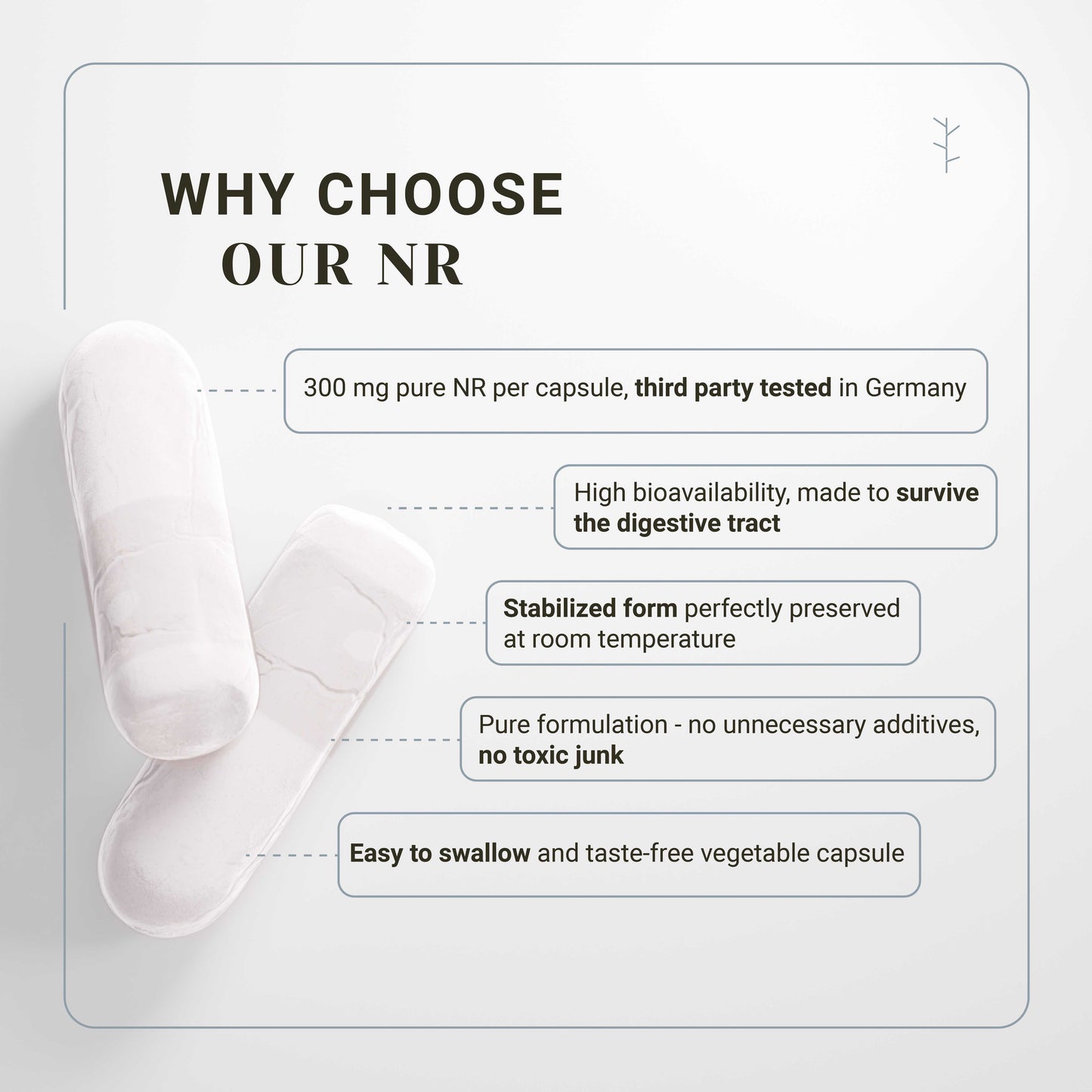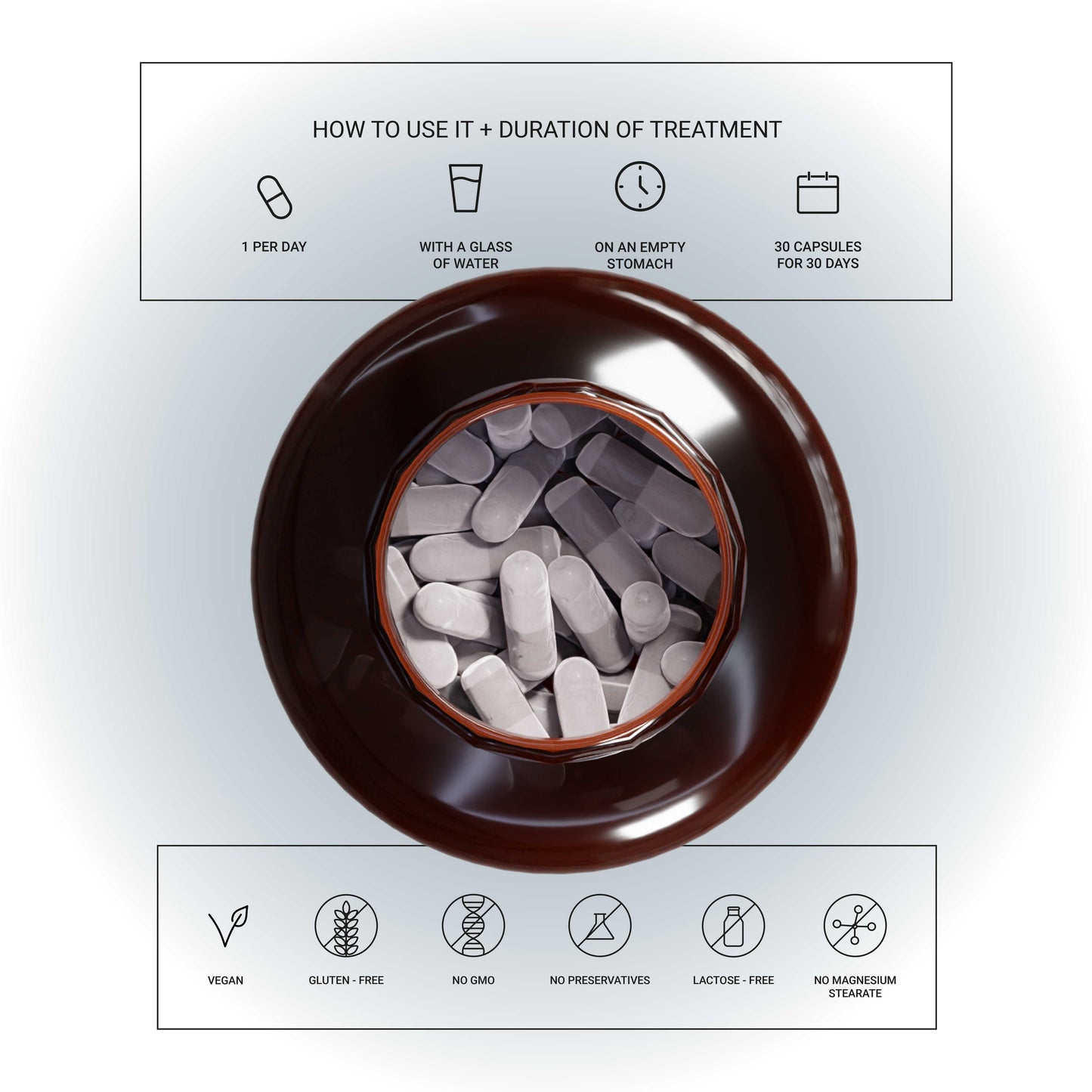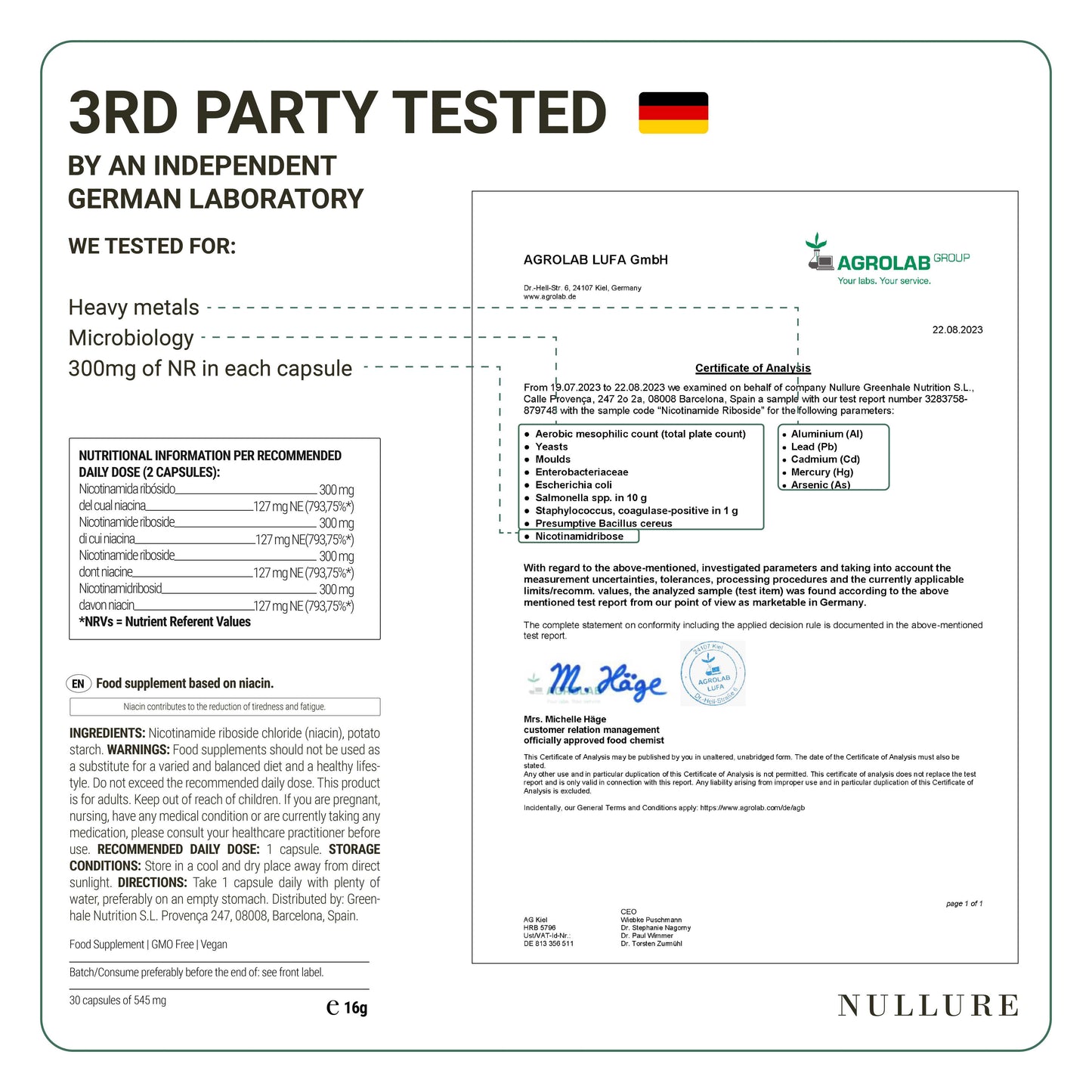 What's inside?
Science-backed ingredients
3RD PARTY PURITY & QUALITY TESTED

SCIENTIFICALLY-BACKED FORMULAS

CAREFULLY MANUFACTORED IN BARCELONA

NO GMO, NO FILLERS, NO JUNK

HIGH QUALITY INGREDIENTS

OPTIMIZED BIOAVAILABILITY
Total 5 star reviews: 7
Total 4 star reviews: 2
Total 3 star reviews: 0
Total 2 star reviews: 0
Total 1 star reviews: 0
100%
would recommend this product
Customer-uploaded media carousel. Press left and right arrows to navigate. Press space or enter to open more details.
Slide 1 selected
What is your gender?

Male

I am satisfied with my purchase

The NR is certified by a German laboratory, which gives me confidence in its purity and content. The previous one I was taking did not work for me, and I think it is because it was not tested and could have less purity

What is your gender?

Male

Ergänzung für einen Energieschub und eine schnellere Erholung

Nicotinamid-Ribosid (NR) ist ein Co-Enzym, das den Zellen hilft, Energie zu produzieren. Energie ist für viele Körperfunktionen notwendig, wie z. B. für den Stoffwechsel, den Muskelaufbau und die Muskelerholung.

Seitdem ich NR in mein Trainingsprogramm aufgenommen habe, habe ich eine Steigerung des Muskelaufbaus während des Trainings festgestellt und auch die Erholungszeit der Muskeln nach dem Training verkürzt.

Oriol Salat M.

Verified Buyer

What is your gender?

Male

Mejor precio del mercado para 90 capsulas

He incluido esta Nicotinamide Riboside en mi rutina por 3 razones: 1) Mejor Precio en el mercado por cápsula 2) Producto testado por laboratorio independiente 3) No hay additivos artificiales como en otros productos de la competencia

What is your gender?

Male

An energy boost in the morning

The Nicotinamide Riboside supplement gives me a boost of energy to cope with everyday life.

What is your gender?

Female

Nicotinamide Riboside rein

Ich mag, dass das Produkt von einem deutschen Labor zertifiziert ist, gibt es mehrere teurere Produkte ohne diese Zertifizierung. Glücklich mit dem Produkt, die Formel ist sehr rein, nur Nicotinamid Ribosid +99% Inhalt, keine anderen unnötigen Zusatzstoffe. Ich habe bereits abonniert
Reviews Loaded
Reviews Added